Hanson spreads the benefits of warm asphalt
Use of warm asphalts promises environmental benefits of energy saving, lower emissions and enhanced durability and to this list can now be added technical advantages, including extended compactibility in cold weather and quicker reopening of roads to traffic.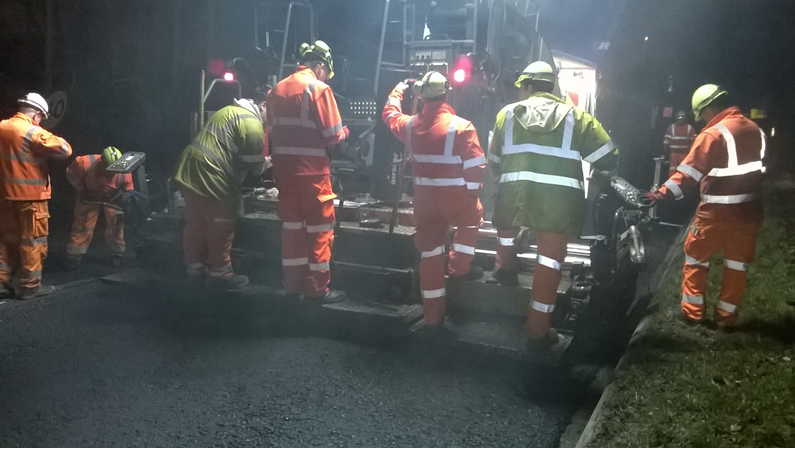 Hanson is one contractor which has taken these technical advantages on board and has used warm asphalt to reinstate one of Cumbria's busiest roads; the A66 at Crackenthorpe, west of Appleby.
"Carriageway closures were restricted to night time during last winter," said Hanson North Technical Services Manager, Aggregates and Asphalt, Jon Sharp. "We had to get in at 19.30, complete the planing out and replacement work, and get away for traffic to be running by 08.00 the next morning.
"Time was short considering the amount of work we had to do each shift. We needed materials that could be compacted well despite the cold temperatures and which would harden rapidly. Our client Kier (contractor to Highways England) agreed to the low temperature solutions we proposed."
The challenge was to lay two layers of base course at 90mm each plus a binder course of 70mm, adding up to a total of 250mm, plus a Tuffgrip thin surfacing of 40mm, all between 22.00 (after planing) and the morning cut off point.
Hanson proposed lower temperature asphalt for the base and binder courses. Use of a warm asphalt containing Nynas Nypave PX50 allowed the asphalt to be mixed at a lower temperature (140oC, providing a 30oC reduction).
This rapid turnaround meant Hanson could lay the subsequent layers sooner and to the right level of compaction. "Nypave PX50 allows for lower temperature compaction and rapid hardening of the asphalt which, in turn, permits two to three layers to be laid at night, in the cold, in short order," says Nynas Asphalt Support Engineer Jukka Laitinen.
The asphalt – supplied from both Hanson's Shap and Keepershield asphalt plants – proved highly suited to the job, even though subsurface conditions were less favourable than expected; and the contractor found itself planing out to a greater depth and having to install not three, but four layers, of base and binder.
Due to the issues relating to the lower levels, the programme was revisited. More time was provided for laying, meaning that speed of completion for the base and binder layers was no longer critical. This meant Hanson could move to a conventional 40/60 binder in its asphalt. However, it stayed with Nynas Nytherm PMB 75 bitumen for the A66's 40mm thick Tuffgrip surface layer. Specially modified, the binder allows production of high performance asphalt mixtures at lower temperatures, which display enhanced compactability in cold weather. Hanson uses the product in summer too, for its early opening potential, as well as its environmental credentials which make it an obvious option when sustainability is on the agenda.