A collaborative approach and the introduction of advanced technologies enabled the completion of a complex resurfacing project at Silverstone racetrack in Northamptonshire.
Working with motorsport track experts Dromo, Tarmac undertook the challenge to resurface the circuit to the stringent requirements needed for racing: in addition to high levels of grip and durability, variations in surface profile must be kept to an absolute minimum and drainage needs to be optimised to reduce the risk of high-speed aquaplaning.
"Material selection was essential to providing the surface quality required," said Tarmac's Regional Technical Manager Tim Smith. "Greywacke gritstone from our Bayston Hill quarry, which has already been used at the Abu Dhabi and Bahrain Formula 1 circuits, was identified as the most suitable aggregate source due to its ability to provide optimal grip."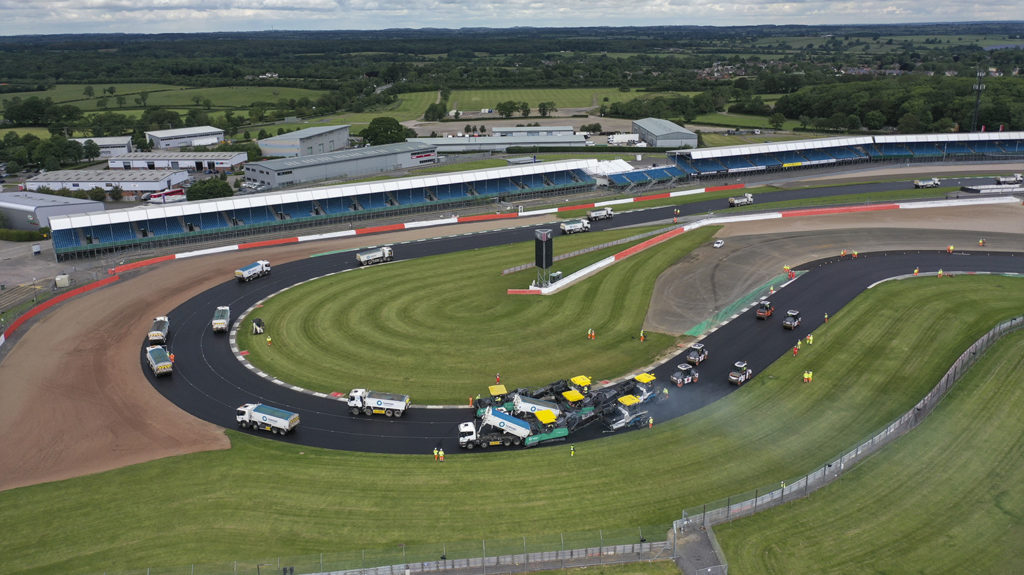 The quarry manufactured the aggregates to the tight grading and shape specification. It was then washed to ensure a high level of consistency before being combined with a bespoke, highly modified bitumen manufactured by Shell.
Silverstone's tight corners require quick camber changes over short distances. In order to deliver a seamless, smooth base on which to surface, every inch of the track was laser-scanned to create a 3D digital terrain model, allowing the difference between the existing surface and the new model design to be accurately calculated at any given position.
"The scheme necessitated a high level of logistical planning and advanced technology," said Tim. "Ensuring continuity of supply of 350 tonnes of asphalt per hour from our Elstow and Harper Lane plants was critical. To achieve this, all the aggregates needed were moved to the plants ahead of supply and we set a maximum time limit of three hours between mixing and laying to ensure perfect quality, with delivery vehicle management being key."
Tarmac's logistics teams used advanced software to manage the location of each truck and its asphalt management system supported the coordination of around 70 delivery vehicles and multiple supply plants by accurately calculating the most efficient way of completing each shift.
Asphalt feeder machines were used on site so there was no break in material supply to the three paving machines that operated in echelon formation to ensure there were no longitudinal joints in the surface. Specialist oscillating rollers were then used to provide the smoothest possible finish.
"The team worked around the clock and committed over 7,000 working hours on site to get the track race ready," added Tim. "More than 16,000 tonnes of bespoke asphalt was needed to resurface the 5.5km circuit and the result is a surface that sets a new benchmark for precision and quality using the latest innovative technology."