A skid-resistant asphalt which delivers improved safety and provides whole-life cost savings has been used to resurface a busy slip road on the A64 in Yorkshire.
Ultigrip, developed by Tarmac, was chosen for the junction with the A1237 near York, which had been highlighted by Highways England as being in urgent need of improvement following an increase in the number of recorded incidents.
The brief was to find a solution that would replace the worn high-friction surface with a more durable asphalt, while delivering improved whole-life performance, boosting safety and minimising unplanned delays.
Tarmac worked in collaboration with principal contractor AOne+ to lay 250 tonnes of Ultigrip on the slip road. Although the upfront costs were greater than a conventional solution, AOne+ quantified the whole-life savings to be £370,000 due to reduced maintenance, with 28 days of closures and 2,800 hours of labour saved over its serviceable life.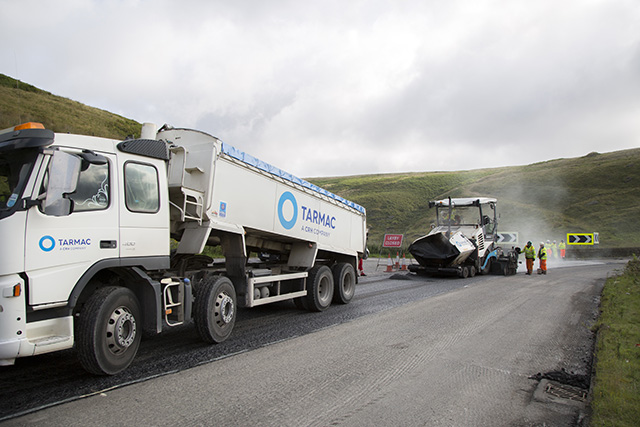 David Hardy, national product support manager at Tarmac, said: "Providing safe and secure roads is the number one priority for highways authorities. It's especially crucial that high-risk locations such as slip roads, roundabouts, tight bends and approaches to pedestrian crossings are surfaced with the most appropriate materials available.
"Ultigrip is different to traditional high-friction surfaces as its skid resistant properties are not added at the end of the surfacing process but intrinsic to the mix. A calcined bauxite aggregate and a durable clear binder are used that, when combined, offer a durable, textured finish which reduces the dangers of skidding.
"It also lasts up to four times longer than alternative options and can be laid in a single pass meaning operatives spend less time overall on site, improving safety and reducing labour costs in both the short and long-term."