High streets remain at the centre of local life in towns and villages across the country. Providing and maintaining key routes to a high standard is vital to ensuring that residents can access amenities, shops can trade and these streets can continue to define local character.
These aims were at the heart of a recent £500,000 project delivered at Heathfield high street in East Sussex, where FM Conway holds a highways surfacing partnership with Costain/Jacobs and East Sussex County Council.  As part of that wider programme, FM Conway was briefed to renew 3,600m2 of road surface along the high street.
Minimising disruption for local shops and traders was crucial to the scheme's success. FM Conway's Senior Operational Manager, Richard Coughlin, comments: "The programme required periods of road closures so careful phasing was vital to reduce the impact on Heathfield's shops.
"The material mix we specified was also chosen to maximise durability – driving whole life cost efficiencies for East Sussex County Council and reducing public disruption by ensuring that repairs wouldn't be required again for many years."
The week-long scheme was staggered across three phases along the high street, with Costain/Jacobs coordinating the project and liaising with local businesses. Each aspect of works, from initial carriageway reconstruction through to road markings, occurred continuously where possible to drive productivity. FM Conway marshals were on hand throughout to guide the public and keep them safe.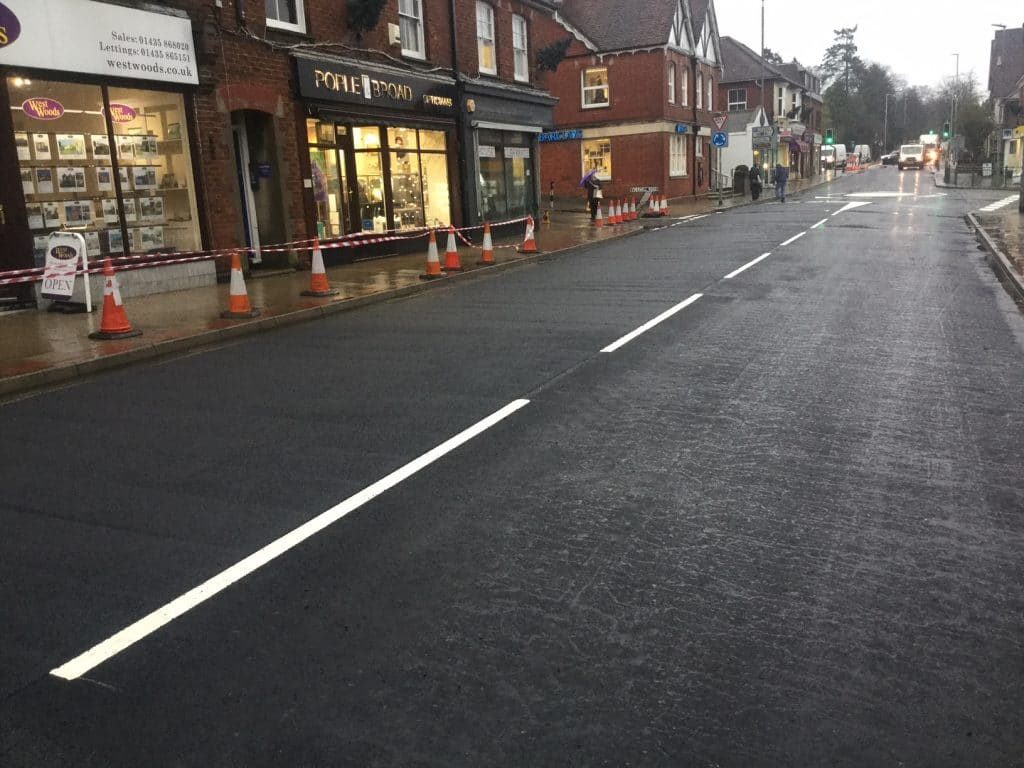 Once the carriageway reconstruction works overseen by Costain were complete, FM Conway planed the road surface to a depth of 65mm, transporting all arisings to one of its depots for recycling.  It then laid a 6mm SMA Surf, followed by a CG100 geotextile membrane to ensure good adhesion with the surface course and to maximise the road's resistance to reflective cracking, where pressure on one road layer spreads to another. After this, a 10mm Surepave Polymer Modified Bitumen (PMB) surface course was laid to a depth of 45mm. SurePol TS (Polymer Modified Binder) was added so that the road can flex and therefore last longer.
"The programme was continuously reviewed to drive efficiencies," said Richard. "For example, we re-allocated the stretch of works outside the Co-Operative store to one night shift to avoid any impact on daytime trading.
"The carriageway reconstruction stage of the final phase was also completed quicker than anticipated so, by revising our resurfacing programme, we were able to finish the overall scheme two days early."
Mike Egleton, service director for East Sussex Highways, said: "This was a high-profile scheme that required thorough planning, excellent communication and close cooperation by all project partners.  A fantastic team effort ensured that we kept residents and businesses' needs in mind at all times, delivering the project ahead of schedule and safeguarding the high street's future. It is a blueprint for how we should manage similar schemes in future."