Driving resource efficiency
The construction industry is facing increasing pressure from policymakers to become more resource efficient due to it being both the UK's largest industrial producer of waste and largest consumer of natural resources. According to the UK Green Building Council, the sector uses more than 400 million tonnes of material every year and both the EU's Circular Economy Package and the London Circular Economy Route Map (a scheme led by the London Waste and Recycling Board) highlight that construction's support is critical to making the shift to a circular economy – a concept which aims to maximise the lifecycle of resources as much as possible. 
Highways and infrastructure construction is no different when it comes to the demand for materials.  Thanks to initiatives such as Highways England's £15.7 billion Road Investment Strategy, significant improvements are planned for England's strategic roads over the next five years which will require the sector to supply huge amounts of finite resources. This renewal programme also gives the highways sector a unique chance to lead the wider construction industry in the push to adopt a more sustainable approach to materials.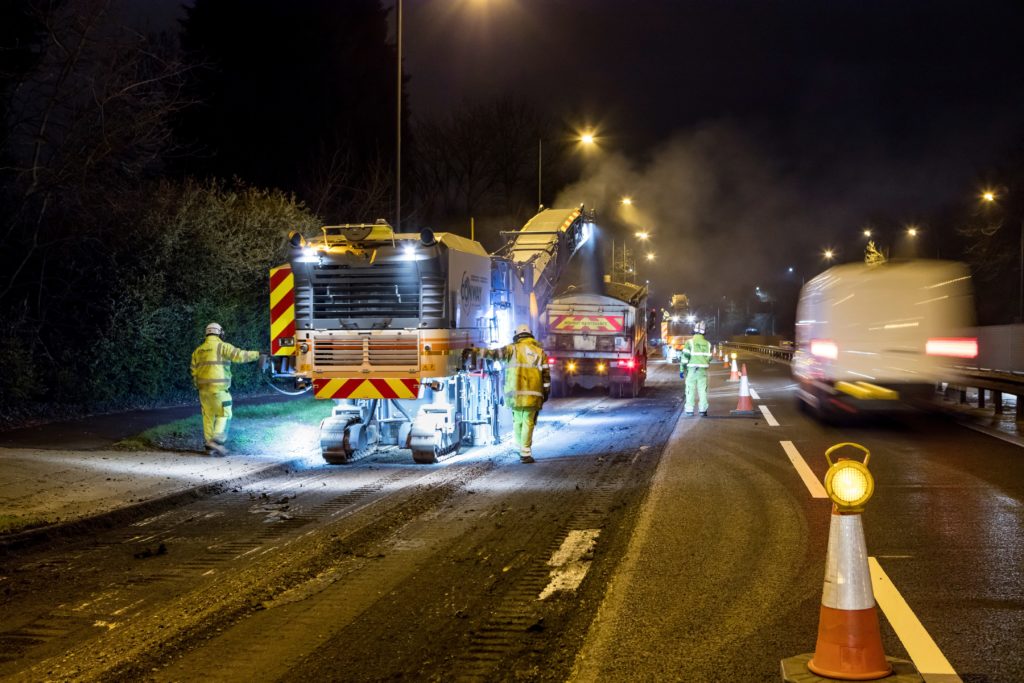 "Much of the inherent value of Britain's road network is in the billions of tonnes of asphalt that make up the surface of its highways," said Tim Metcalf, aggregates and asphalt director at FM Conway. "Asphalt is 100 per cent recyclable and, with over 50 per cent of the strategic road network likely to be resurfaced by 2020-21, vast quantities of the material could be recovered for reuse."
While it is not unusual to incorporate 50 per cent recycled content asphalt into the base and binder courses of roads, the recycled content of surface course mixes is traditionally limited to around 10 per cent.  This is mainly due to concerns that high recycled content asphalt cannot provide satisfactory skid resistance for strategic routes: doubts that are being addressed through a trial with Transport for London (TfL).
FM Conway is using an asphalt surface course containing 50 per cent recycled aggregate on the A1 in Mill Hill, which will be compared against primary aggregate asphalts on an ongoing basis to monitor its durability and skid resistance.
"We're confident the results will show that high recycled content mixes can provide both an environmentally sound and safe way of maintaining the nation's strategic roads," added Tim. "Change won't happen overnight, but we hope that trials such as this one will encourage others to reassess the role that recycled asphalt can play in road maintenance plans."