Thin layer surfacing adds steel to bridge's asphalt:
A high performance steel slag based asphalt has been used to replace the surface of St George's Bridge in Doncaster. The 620 metre dual-carriageway bridge, built in 2001, is a crucial gateway into the town centre, carrying around 44,000 vehicles a day. A refurbishment project for Doncaster Council included replacing corroded movement joints, bridge drainage works and allied junction improvements as well as the carriageway resurfacing.
The decision was taken to move away from the previous porous asphalt surface as its gradual deterioration in performance contributed to the corrosion of the original movement joints. Instead, a dense binder layer was chosen topped with a special thin surfacing material that displays both enhanced durability and high resistance to skidding.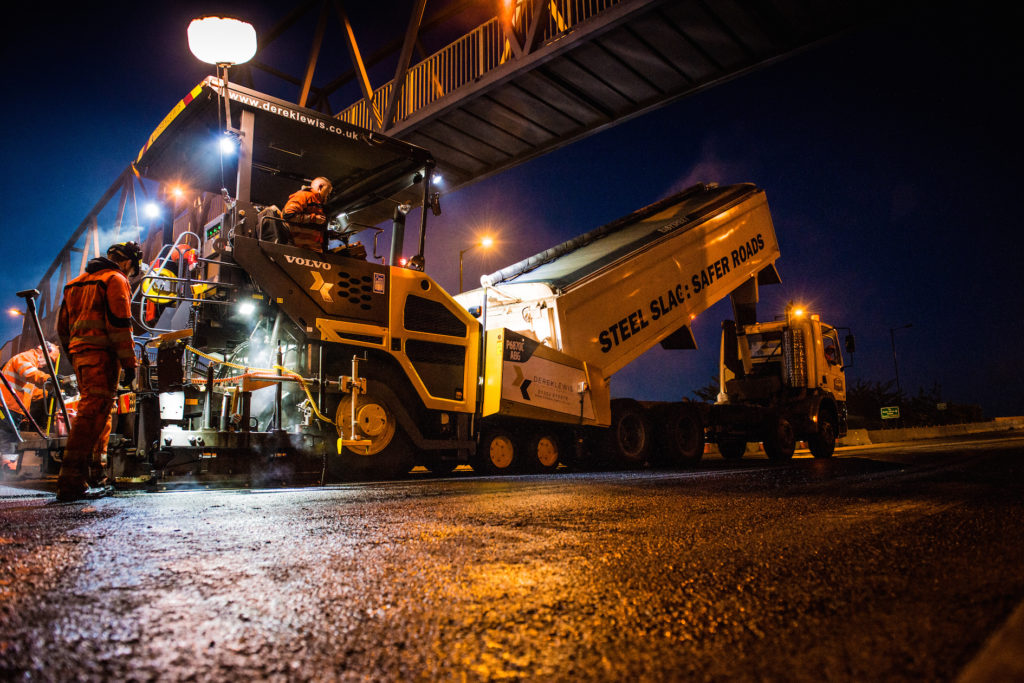 "Steelflow is a mixture of 6mm steel slag aggregate and a tough, but very flexible, polymer modified binder," said the asphalt producer Steelphalt's Commercial Manager Dean Raynor. "We receive and process steel slag from a number of different steelworks, turning the material into a durable aggregate equivalent to stone with a PSV of 63."
Bitumen supplier Nynas worked with Steelphalt to design Steelflow, which uses the company's Nypol S89 polymer modified binder to provide enhanced flexibility and resilience.
St George's Bridge is the first time Steelflow has been used on a major elevated structure, a decision supported by transport research consultancy TRL.
TRL's assessment included visual inspections of in service sites, skid resistance surveys using SCRIM and laboratory testing. The in service sites assessed were in Rotherham (laid 2011), Flouch and Dodworth (both laid 2013).
"Visual inspections found the materials to be in good or excellent condition," says TRL Senior Researcher in technology development, Stuart McRobbie. "SCRIM surveys showed that the skid resistance demonstrated by 6mm Steelflow was higher, by a significant margin, than the Investigatory Level (as per the Design Manual for Roads & Bridges) for any of the site categories on which it was laid."
The work to remove the porous asphalt and resurface the bridge deck with around 15,000m2 of new material was carried out at night to minimise disruption. The new surfacing comprises 50mm of conventional binder course and 20mm of Steelflow to provide impermeability, durability, longevity, ride quality and resistance to skidding.
Jukka Laitinen, Nynas Asphalt Engineering Support Consultant, said: "Long bridges by their nature can move up and down under load, which can challenge conventional asphalts. Our binder is engineered to ensure that Steelflow displays both extra resilience and enhanced flexibility, making it an ideal choice for St George's Bridge."