28 October 2019
"We agree with the Transport Select Committee's report and the Government's response on the need for a long-term approach to investment in highways maintenance.
4 September 2019
Statement following the Chancellor's Spending Review Statement
1 July 2019
"With our own ALARM survey highlighting that there is a highway maintenance backlog of more than £9 billion, it's no surprise that the Transport Select Committee has concluded that the local road network needs investment. "Local roads are the lifeblood of our economy and communities and we support the Committee's call for a significant and […]
26 March 2019
There are signs that an increase in local authority highway maintenance budgets is stemming the decline in the condition of the local road network, but the increased investment is still falling short of the amount needed to maintain local roads to target conditions. This year's Annual Local Authority Road Maintenance (ALARM) survey, published today (March […]
6 March 2019
The Asphalt Industry Alliance's Annual Local Authority Road Maintenance (ALARM) survey has highlighted for many years the impact of utility reinstatements on local authorities' carriageway maintenance budgets.
8 February 2019
The long-range UK weather forecast suggests that there will be an early end to winter, but for local authorities dealing with the impact of last week's cold snap on road conditions, the outlook remains gloomy.
21 December 2018
It's been a busy few months for the AIA. Our Chairman Rick Green and Directors David Giles and Malcolm Simms have been involved in numerous public affairs engagements, media interviews, and industry conferences in our efforts to keep the link between local roads funding and conditions firmly on the agenda. In addition, the findings of […]
6 December 2018
AIA representatives recently attended a meeting of the All Party Parliamentary Group on Highways, which it supports. The group, chaired by Sir Christopher Chope MP, welcomed speakers from Oxfordshire County Council – Councillor Yvonne Constance, Cabinet Member for the Environment (including Transport) and Paul Fermer, Assistant Director – Infrastructure Operations. Cllr Constance explained to the […]
29 October 2018
Asphalt Industry Alliance (AIA) comment re today's budget announcement that there will be an extra £420 million for local authorities' highway budgets in this financial year: Please attribute quote to Rick Green, Chairman, Asphalt Industry Alliance "The additional funds announced today will go some way towards tackling the annual shortfall local authorities have in their […]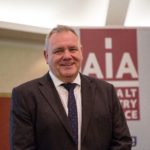 24 October 2018
"The Welsh Assembly's Economy, Infrastructure and Skills Committee should be applauded for its
thorough review and the pragmatic conclusions it has reached.