Conducting resurfacing works on the busy streets of London is challenging at the best of times. Throw in buses on diversion, bridges, restricted access/short possessions and tar contamination and you have additional obstacles to overcome in the design and execution of a highways project – and all with reduced CO2 emissions and public health to consider.
This was the position Ealing Highways was in when it undertook the resurfacing of Mandeville Road, the A312, directly outside Northolt Underground station and a busy bus route connecting the A40 to Harrow.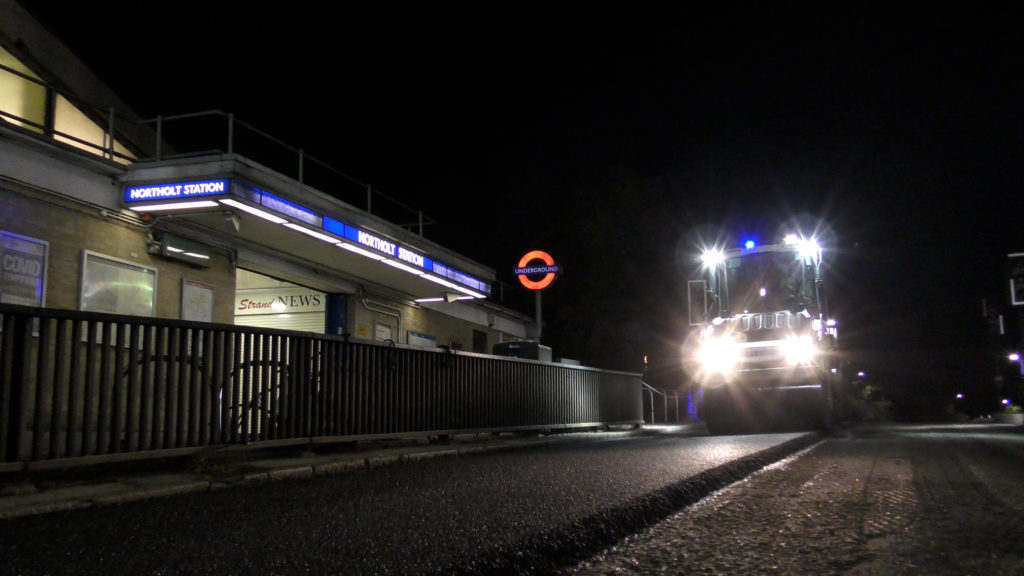 The original design called for 70mm of binder course with a 40mm surface course to be laid on the bridge over the railway line during a four-night period, but a rethink was needed when site investigations showed tar contamination at 90mm depth. The challenge then became to leave the tar contamination undisturbed and avoid the significant cost of disposal of a hazardous waste. The brief also called for a dense and durable design suitable for the rigours of London life.
Ealing Highways contacted Tarmac who proposed planing to 80mm and laying UltiLayer SMA 14 from the company's range of polymer modified bitumen asphalts in a single layer.
Accredited contractor Toppesfield was supported by Tarmac's technical team to ensure the works were successfully completed and the necessary compaction was achieved. To ensure the thick inlay had cooled sufficiently to white line and open to traffic in time, the UltiLayer was specified as a Warm Mix Asphalt. This method of production also provided the additional benefit of reducing the project's CO2 footprint by around 10% and reducing on-site emissions by around 80%, supporting London Borough of Ealing's Public Health objectives.
The planing and laying operation was carried out over two nights with material supplied from Tarmac's nearby plant at Hayes. In total 580 tonnes of UltiLayer was laid, saving 220 tonnes on the original 110mm deep design. The UltiLayer also used 14mm steel slag aggregate, transferred from Tarmac's works at Port Talbot by rail. This aggregate carries a zero CO2 rating as it is a by-product of the steel making process.
Roger Eke, Technical Product Manager at Tarmac, said: "This is the third significant scheme on which Ealing Highways has specified UltiLayer. The dense, low texture mixture and high-grade polymer modified bitumen makes it a sensible choice for highways engineers looking to overcome the many issues associated with an ageing road network that carries high volumes of heavy traffic."
Richard Stiles of Ealing Highways' Infrastructure Renewal Team added: "We are expecting the new surface to cope with the demands of relentless traffic and, although we will monitor the site in future, we are confident the right choice was made as we avoided the extra cost of tar disposal and reduced the duration of works by two nights, saving money and minimising disruption. Tarmac has delivered a durable material designed for the long term which offers reduced carbon emissions and noise pollution.
"Overall, the project was delivered at no additional cost to the original budget and resulted in improved ride quality, appearance and reduced noise pollution."